Make a Lighting Plan
Lighting can make or break a room. That's a fact. Not only does a good lighting plan make a room look better, it also makes it function better and provides an important safety element. But proper lighting involves more than just tossing in a few fixtures and calling it a day. Here are some things to think about when it comes to your home's lighting plan.
Types of Light
Every room should have a mix of three types of lighting: general, task and accent.
Accessibility and Convenience
When making a lighting plan you need to think about accessibility and convenience. When you walk into a dark room you want to make sure you can easily access the lights.
3-way switches allow you to control light from two different areas. This is particularly helpful in rooms that have two entry points, or stairwells where you can have one switch at the top and one at the bottom.
Sensors are a great option for the outdoors, and in small rooms like cupboards and pantries. They're inexpensive and can be installed without having any additional electrical work done.
Having lights as part of an automated system allows you to control them remotely, meaning you'll never have to come home to a dark house, or get out of bed to turn the lights on or off.
Recessed Lights
If a room has an 8 foot ceiling, space your recessed lights approximately 4 feet apart. If the ceiling is 10 feet, you'll want to put about 5 feet of space in between each fixture. (Consult local electrical codes before installing).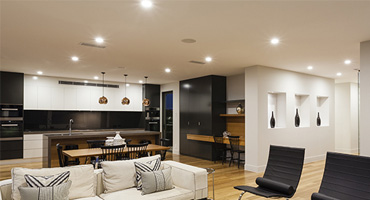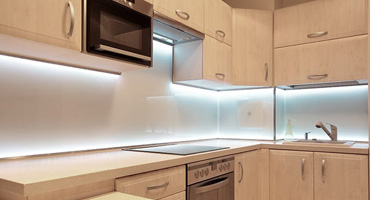 Under Cabinet
This type of lighting is highly recommended as it provides great task lighting in work areas. Strip lighting is the most common type.
Kitchen Pendants
As a general rule you should install one pendant for every two feet of counter space. Typically pendants should be placed 30″ to 36″ above the countertop, or 72″ above the floor.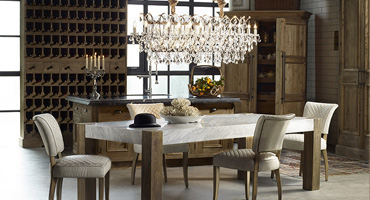 Dining Room Chandeliers
Always hang them over the centre of the table with the bottom of the fixture hanging between 30″ and 36″ from the tabletop. If it's hanging in an area with no table underneath you'll want to go higher. Make sure it's at least 7' off the ground so people can walk freely underneath it.
Entryway Chandeliers & Pendants
Entryway fixtures should always be hung in the centre of the room. The bottom of the fixture should never be lower than 7' (this goes for any hanging fixture anywhere in the house). In a two story entry it should not hang below the second floor.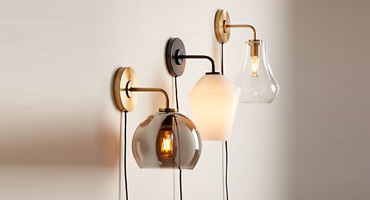 Wall Sconces (Living Room, Dining Room, Hallway, etc.)
The center of the back plate should be no less than 60" above the floor. And preferably no more than 64".
Bathroom Sconces
Sconces should be mounted on either side of a mirror, ideally 36" to 40" apart in order to eliminate shadows being cast on the face. The bottom of the each one should be mounted at approximately eye level. If this is not possible due to size restrictions hang a fixture over the mirror. Ideal placement is 75" to 80" above the floor.